**scroll down to shop, or read first, then shop**
Let us first be very clear: The HOKA One One is not a niche shoe. It's a different way of looking at running, and it has the industry trying to catch up.

While other shoe companies were following a "minimalist" trend 5 years ago, the folks at HOKA were sitting at the top of a mountain trying to figure out how they could get back down faster. They knew the pure force of running downhill was very tough on their bodies, and (having a shoe industry background) went looking for solutions. They finally settled on a couple of common sense solutions:
More padding is more comfortable. Whether you're running downhill on a rock-strewn trail or out for a walk on your neighborhood sidewalks, an absorbent cushion between your feet and the ground reduces impact on muscles and joints. Today, this philosophy doesn't mean every HOKA will be a pillowy; what it means is that every shoe will have incrementally more cushion than its competitors in the market in a manner that adds comfort and protection while being tuned for the specific application.
A natural footstrike is better for the body. Just because a shoe is heavily cushioned doesn't mean it has to increase stress on the foot. A low drop (less additional padding on the heel vs. the forefoot) can assist runners in a more efficient stride and promote more natural body mechanics. All HOKAs have a proprietary "rocker" - a point in the shoe at which the foot is allowed to roll forward into its most efficient position.
A wider tread footprint increases stability. When the center of gravity is raised by thick cushioning, it is important to ensure the shoe also provides the additional stability necessary to compensate for its height. HOKA - especially highly cushioned models - will have a comparably wider footprint than competitive offerings.
Here's how they describe that stuff: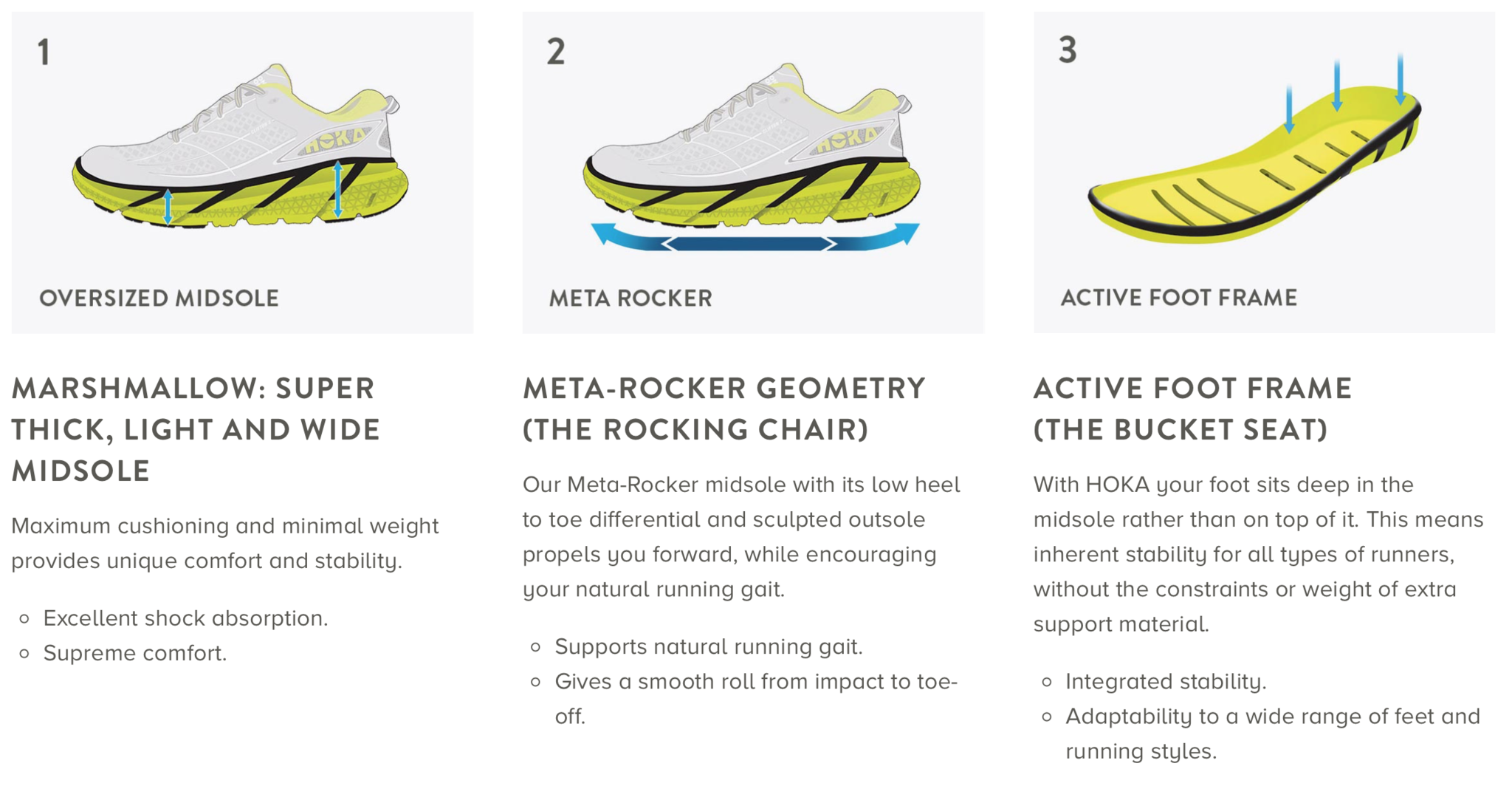 The result? A shoe that allows new runners to avoid the discomfort normally associated with starting a new type of activity. One that allows established runners to complete a full week of workouts without sore joints and aching feet. And a way for competitors at the highest level to increase mileage and speed on any surface. We love these shoes, and love the fact the legacy shoe companies are introducing shoes that are more "HOKA-like". While they play catch-up, HOKA is busy expanding their line, creating even more solutions for racers, runners and walkers of all levels.
HOKA One One at the Ultra Running Company
We have a lot of folks come into the store asking to try the "HOKA shoe", and two or three years ago it would have been pretty easy for us to point to a single shoe and tell them it was representative of the HOKA line. Today, however, HOKA offers a full line of shoes to meet the varying needs of runners of all skills and desires. HOKA One One shoes are - by design - Low Drop shoes with Comfort Cushioning, but the similarities end there, with multiple widths, types of cushioning and application. We are excited to be the only running store in the Charlotte market - and one of the few in the country - to carry the full line of HOKA One One shoes, and we love working with folks to figure out exactly which HOKA is right for them.

A Really Important Note Regarding Stability: We'll say it here and anywhere. Stability is a marketing concept used to sell shoes, and we're not a fan of companies pretending to solve something with it. For 95-97% of the population (yes, this includes YOU...don't pretend you're special in this way!) there is no need for correction regarding pronation or supination. With that said, we do carry two shoes in the HOKA lineup that they have recently added to their "Dynamic Stability" classification. Be aware that one of these shoes was categorized as "Neutral" along with every other shoe in their lineup last year, and the only thing that has changed is where they slot it in their marketing material. The upside of this from the HOKA standpoint is that they hedged their bets by NOT using classic stability techniques such as "posting" and "shanks". For HOKA, stability means a combination of a wide footprint and variable rubber compounds that guide your foot to a neutral landing. Do we like that they now refer to this as "stability" instead of just calling it a "running shoe" like they did in the past? No, but we get that they made a decision to do what every other company in the world does, and they don't ask us for marketing advice. So in the spirit of full disclosure, the Constant 2 and the Conquest 2 fall in this category. We think they're really nice shoes that stand on their own, so we carry them. With that said, you'll never hear us talk about them in terms of stability or guidance, since the available science tells us that's a crock...